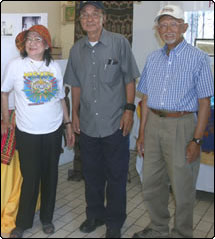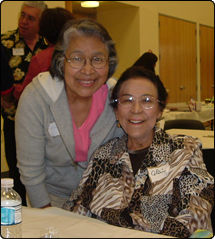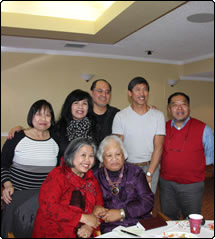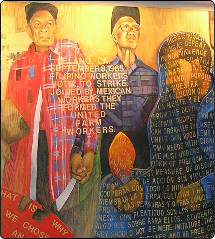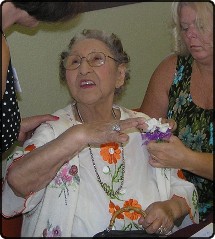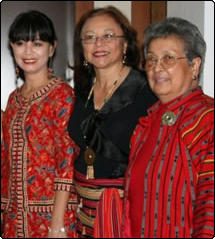 What's New – Upcoming Events
Local News
FANHS Sonoma County is taking the high road to meet the challenges of achieving its mission. Focusing on our commitment to preserve our history, we're promoting membership, volunteerism and involvement. Come join us as we travel down the high road of historical preservation. Help us steer the course – you'll have fun along the way!
Publication of a local Filipino history book and launching of our website creates opportunities for members to participate in digital media, photography, writing and editing, archiving, and web maintenance activities. There will be opportunities throughout the year for members to make use of, or gain skills in fundraising, public speaking and project team participation.
On September 27, FANHS Sonoma County chapter officially kicked off its annual scholarship fund at a recognition luncheon and fundraiser. Nearly 100 community members turned out to honor Manang Kay Baguio and the 2010 scholarship that FANHS has named in her honor. Friends and family paid tribute to the contributions Manang Kay has made to the community, and joined in her longstanding support of youth education by donating generously to the scholarship fund. It was a joyful event with plenty of fellowship, gratitude, and generosity extended by all. The event raised more than $1,000 to benefit the fund. You too can help – please donate today!!
National News
Filipino WWII Veterans to Receive Additional U.S. Benefits
On February 17, President Barack Obama signed into law the American Recovery and Reinvestment Act of 2009. The act formally recognizes the service of Philippine WWII veterans who served with the U.S. Armed Forces, and authorizes a one time lump sum payment to those who are eligible. Philippine veterans with U.S. citizenship will receive a lump sum payment of $15,000. Those who are not U.S. citizens will receive a lump sum payment of $9,000. The U.S. Department of Veterans Affairs must receive claim forms no later than February 16, 2010.
Message from FANHS National Headquarters
Dear FANHS members and friends,
Through the generous support of donors and volunteers – including our full time volunteers and cofounders, Drs. Dorothy & Fred Cordova, FANHS Executive Director and Archivist – the Filipino American National Historical Society (FANHS) has gathered and promoted Filipino American history through publications, public programs, films, and artistic expressions for more than 25 years. In 2009, we hope that you will include FANHS in your charitable giving so that FANHS might continue to promote Filipino American history for "the next generations."
When communities throughout the nation celebrate Filipino American History Month each October, it is because FANHS launched the very first Filipino American History Month events in 1988, with a resolution that's been officially adopted in the state of Virginia and elsewhere. Just this past season, events held by some of the 28 FANHS Chapters included a documentary film premiere in Sonoma (CA), book launches with jazz in Berkeley (CA), a film festival in Vallejo (CA), a collaborative museum exhibit in New Mexico, a symposium in Portland (OR), and a nationally recognized speaker's banquet in Philadelphia (PA). FANHS Hampton Roads (VA) published two oral history collections through a unique intergenerational collaboration between high school student groups, professional organizations, community elders, professors, [and] local leaders.
Filmmakers, writers, scholars, artists, students, [and] elders have used the thousands of artifacts–print materials, oral histories, photographs, and other memorabilia–housed in the FANHS National Archives in Seattle, Washington. You've seen FANHS photos and documents on book covers, in multimedia curricula, in films, in museums, and in the Smithsonian's current traveling exhibit, "Singgalot: The Ties that Bind."
Generations have also been inspired by the 12 biennial national FANHS conferences that draw from 300–600 plus participants to memorable panels, films, authors' receptions, awards banquets, and historic tours. At our 2008 conference, the Governor of Alaska proclaimed, Thelma Buchholdt Day, thelmabuchholdt.com, in honor of [the] three term FANHS President and state legislator from Anchorage, Alaska.
FANHS is one of the few national conferences that subsidizes the registration of youth participants. Many "former FANHS youth" are now in leadership positions where they're making a positive impact in academic institutions, in their own businesses and communities, and as young political leaders.
Now, more than ever before, FANHS – that's always run on a slim budget managed by volunteer staff – needs your support to continue its work. We are asking you to preserve and promote Filipino American history by making a financial contribution to FANHS, today. We would appreciate a gift of any size. We know that these are challenging financial times. Yet gifts of membership to FANHS are always welcome as meaningful green gifts for all holidays –– even weddings, birthdays, anniversaries, and graduations. Donations to FANHS also express a special way of honoring the memory of loved ones.
Your donations to FANHS will support:
The FANHS National Archives in Seattle: Perhaps the most extensive collection of oral histories, photographs, and historical documents on Filipino Americans in the United States, the archive is in need of financial support to preserve its growing archival collection (where the need for an additional room has increased rent). We hope to eventually digitize materials to include collections in the "satellite archives" of our 28 FANHS chapters.

Youth interns and researchers, who are needed to work with the FANHS National Office.

The FANHS Filipino American National Museum: A proposed Filipino American cultural and youth center in the historic "Little Manila" neighborhood of Stockton (CA), it is a collaborative project of Stockton's Little Manila Foundation and FANHS.
We hope you will give generously to FANHS this year.
With appreciation,
Dr. Joan May T. Cordova
FANHS National President
Message from Former Senator Barack Obama
In a letter to the Filipino American National Historical Society, President Barack Obama, during his term as U.S. Senator from Illinois, formally acknowledged the contributions that Filipino Americans have made to the United States.
Calendar/Upcoming Events
Newsletter
Published on a quarterly basis, the newsletter seeks to provide a snapshot of chapter activities along with articles that include member profiles, historical information and current events.