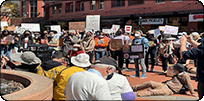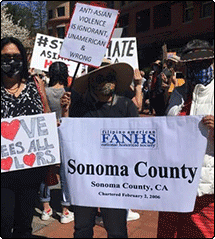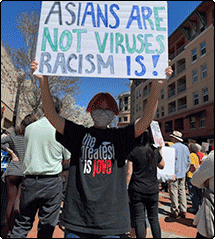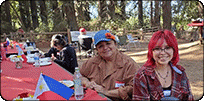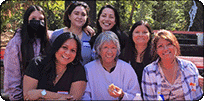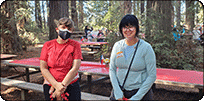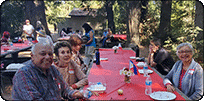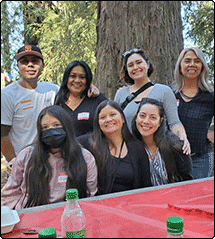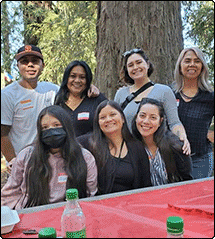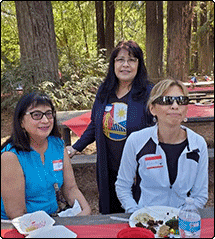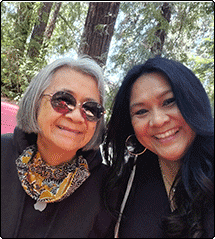 News and Events
Local News
Celebrating Filipino American History Month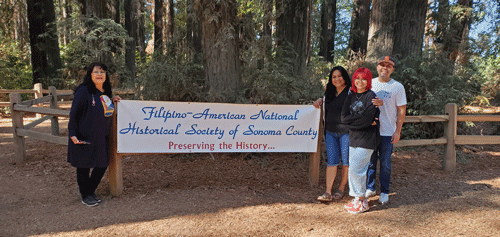 On October 9th, FANHS Sonoma hosted a barbecue picnic at Riverfront Park, set among the towering Redwoods in Windsor. More than 50 members, friends and their families attended. Guests of all ages spent the afternoon feasting on delicious food, visiting with friends old and new, playing games, and relaxing in Sonoma County's perfect Fall weather.  Many tried their luck with raffle tickets, vying for a variety of highly desired prizes.  More than a dozen lucky winners came away with artfully potted plants, confections of all kinds, unique handmade crafts, and more.
Recognizing local Filipino history, several members shared personal stories and memories of events that once took place in the surrounding area.  FANHS Sonoma President Michael Viloria recalled three large ranches where Filipino men, many of whom had come to the U.S. as teens, lived and worked from the 1930s through 1960s.  One such place was Wohler Ranch located a few miles from the picnic area, on Eastside Road near Ya-Ka-Ama. Up and across the river off of Westside Road in Healdsburg was the Grace Brothers Ranch.  Another was the Seimer Ranch located in Santa Rosa where West Third Street now meets Fulton Rd. All three of the ranches originally grew hops until just after World War II when prune and apple orchards, and later vineyards, gradually replaced the hop fields.
Michael's fondest memory was of the Sunday "picnics" that rotated among the three ranches. Filipinos, including single working men as well as families, attended the weekend festivities. There, the men gambled and relaxed after a hard week's work, the women visited, and the children played. Some of the women were known and appreciated for preparing delicious food for others to purchase.
Note: The Bosman Ranch located on Woolsey Road in Windsor was also such a location that stopped holding picnics years earlier.
National News
Bataan Death March Veterans Anniversary
On April 6, 2019 the Bataan Legacy Historical Society commemorated the 77th Anniversary of the Bataan Death March. This annual event commemorates the long-awaited recognition of Filipino and American soldiers who valiently fought side by side in World War II.
The brutal march began on April 4, 1942, when the US surrendered the Philippines' Bataan Peninsula to the Japanese Imperial Army. Seventy-five thousand Philippine and US soldiers, along with civilians, were forced to walk 65 miles in the sweltering heat of tag-init from Mariveles to San Fernando, Pampanga and finally, Camp O'Donnell, Capas, Tarlac.The prisoners suffered severe abuse and senseless killings. Weakened by starvation and sickness, many perished along the way. Those unable to walk were left to die. Those who survived were taken to San Fernando train station and crammed into stifling boxcars bound for prisoner-of-war camps where many died of starvation, mistreatment and disease.
It wasn't until February 1945, nearly three years later, that US General Douglas MacArthur made good on his word to return to the Philippines. US-Philippine forces then recaptured the Bataan Peninsula, and liberated Manila that March. A military tribunal tried and convicted Lieutenant General Homma Masaharu, Commander of the Japanese invasion Forces in the Philippines, for war crimes, after finding him responsible for the death march.
The Bataan Legacy Historical Society's foremost goals are to include this seminal part of World War II history in high school history and social science curriculums throughout the US, and to document the stories of WWII veterans and survivors in the Philippines.
Sonoma County resident MaryAnne Tabor, daughter of John Tabor, shares the story of her father's own experience in War World II in this excerpt from Remembering Our Manongs, Sonoma County's Filipino American History. It is a poignant testament to the resilience and tenacity of a man who endured the dark days of war, then immigrated to the United States where he raised a family, and established himself as a successful business owner and community leader.
…And when the war broke out, he was teaching, so he was immediately enlisted in the American Army. He was a survivor of the Bataan Death March. He was captured and taken to a prison camp. He was thrown amongst the dead in the prison camp because he had been so emaciated from starvation and dysentery that they didn't even think he was alive. He had been down to skin and bones and was able to through escape through the wires. He then joined the Philippine Scouts in the mountains and he fought as a guerrilla until the end of the war.
Bells of Balangiga Returned
After 117 years, the Bells of Balangiga were returned to the Philippines on December 11, 2018. In 1901, in the town of Balangiga, Central Samar, hundreds of Filipino villagers, armed with bolos, used one of the town's church bells to signal the start of a massive attack, one of the bloodiest single-battle losses of American occupation forces in the Philippines. The U.S. Army brutally retaliated, killing thousands of villagers, during the Philippine-American War.
According to Filipino historian, Rolando Borringaga, American soldiers were told to shoot villagers 10 years and older and to turn the island into a "howling wilderness." After the war, the Americans took the three bells claiming them as spoils of war. For decades, Filipinos have been demanding that the bells be returned. Two of the bells had been displayed for decades at FE Warren Army Base in Cheyenne, Wyoming. The third bell was with the US Army in South Korea. The return of the bells was accomplished through a concerted effort supported bv varioius Filipino-American organizations, U.S. Veteran organizations and goverment agencies. At a special ceremony, Philippine Defense Secretary Delfin Lorenzana said, "It's time for healing, it is time for closure, it is time to look ahead as two nations should with a shared history as allies."
Calendar/Upcoming Events